Gentle walks for thoughtful conversations with small groups in the bushland in and around Canberra. The guided walks n talks are for people living with cancer who wish to enjoy some time in the great outdoors, enjoy the company of others and nurture some new skills and practices for getting the best out of life inside and out.
The walks are tailored to each group, ensuring that the pace remains comfortable, allowing for constant slowing down with frequent breaks.
Amidst the rustling leaves and tranquil surroundings, participants engage in heartfelt discussions, truly listening and connecting with one another and the surrounding. The environment becomes a nurturing backdrop, supporting these candid conversations and fostering a profound sense of exploration and understanding and the key thing to keep in mind is that it's not a race!
Why: the aim of the walk n talks is simply to get outside and let nature be our therapist for whatever our hopes and needs.
Who for: those who have experienced or are still experiencing cancer. A minimum of 1, a maximum of 8 on each walk.
Where: easy to reach locations around Canberra. These are Majura (Inner North); Pinnacle (Near Hawker); Pine Island (Southside); Mount Ainslie (Central); Jerrabomberra Wetlands (Central Canberra).
When: there is an early morning, a lunch time and a late afternoon walk each week. Each walk n talk will last between 90 minutes and 2 hours, depending on the weather and how we want to vary our pace.
What will it be like? Our rejuvenating walk n talk sessions amidst the serene bushlands provide a unique and therapeutic experience for cancer patients.
The sessions are tailored for each group, with conversations taking center stage, encouraging participants to share their thoughts, while immersed in the beauty of nature.
At the start of each session, the program facilitator, Dr Jo will brief participants on what to expect, how to stay safe and well on the trails and will spend a moment or two getting grounded and setting our intentions.
Along the way there will be breaks to enjoy the views and reflect etc. You might work with any metaphors that the natural world brings to mind and use some other simple techniques to support wellbeing. In addition, we'll play with practical skills such as better footwork, balance or basic navigation.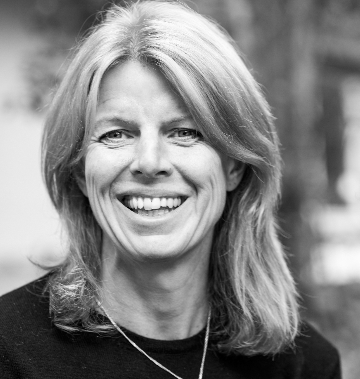 Who by: Facilitator & Guide
Dr Jo Chaffer is the facilitator and guide leading the Walk n Talks for Cancer Council ACT. She is a qualified and experienced mountain leader, a coach and a counsellor in training. Jo has been leading walks and talks for several years and is growing her practices in outdoor therapies including bush adventure through a final unit of her Australian counselling qualifications.
Registration
Registration process is in 3 steps as follows:
Register for the program (Including risk waiver - must be completed to participate)
Our CCACT Health professionals will review your registration and send you an email with links to complete a pre-walk info form (step 2) and to make your booking (step 3).
Once you are registered you can book walk by walk so no need to commit too much in advance. However, we do ask that if you book, please turn up or if you've changed your mind, let us know 24 hours in advance that you won't be joining.
Come to as many walks as you like! We encourage car-sharing where possible!
There is lots more information in our Walk n Talk FAQs including what to wear, what to bring, weather, dogs and much more at the bottom of the page.
Frequently Asked Questions
Many people find it easier to talk to others whilst walking alongside together – it's less intimate than sitting opposite. As a counsellor and coach Jo has found that literally 'walking with' someone on their pathway can feel very supportive and assuring. Walking together over, under, through, up and around different country can also really enable us to move over, through and across different moods, feelings and ideas we have – we might gain new perspectives that bring us new choices which may in turn help get out of any 'stuck' situation. Similarly, movement itself, helps move thinking and feeling – and having trusted, different people along with us can also bring new insights and options.
We walk in the bush to allow nature, the natural world to be our therapist – letting go of the digital domain for a short while and allowing ourselves to listen, see, smell, feel and to be differently. In many ways, Jo is there to facilitate the experiences, help make sense and make active what we discover rather than as counsellor herself.
Jo will guide us practically and also in terms of creating invitations to notice differently, to pause for a while, listen deeply, focus on a particular theme. She is also there for counselling conversations either within the group or more privately by dropping off the back of the group for a few moments.
There are lots of articles and further readings in the Outdoor Therapy / Bush Adventure Therapy literatures for those curious to know more. The model below is a neat distillation of the four ways in which outdoor therapies play out: the bio (physical, bodily); the eco (natural); the social (being with others) and the psychological (having therapeutic enablement).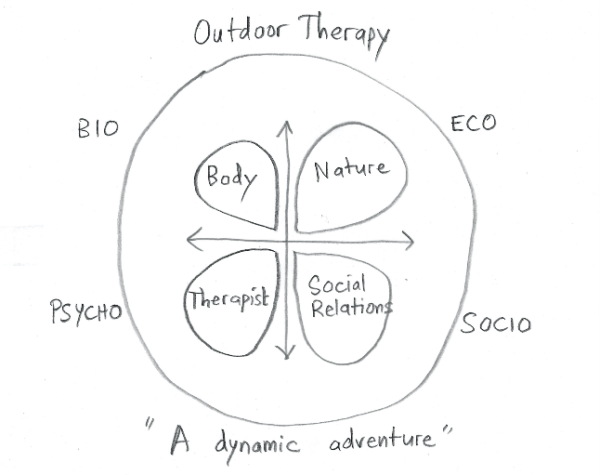 Outdoor Therapy model by Adventure Works Australia, 2022.
For the purpose of the walk n talk pilot we use 'bushwalking' to refer to walks on firetrails, small trails and other paths through nature reserves and other green places managed to conserve the natural ecosystems and habitats for native flora and fauna. This excludes urban parks with mowed lawns etc. The 'bush' we walk through for the pilot has smallish hills, creeks and rivers. It means thicker, denser woodlands as well as open grasslands. All the bushy areas are reserves local to Canberra's suburbs. In this pilot we are not venturing out to the bigger ranges of Tidbinbilla etc.
Trainers, walking shoes or walking boots – something with a reasonable tread so you can make positive contact with the trails and that you feel confident to walk on uneven ground in. They should be reasonably sturdy so your feet are not slipping about inside the shoe.
Clothes – dress for the weather. Layers are good – things we can peel off as we get warm going up hills and layers we can add on as we cool down when we stop or if the temperature drops. The ideal is lightweight, quick drying material but T-shirt and a couple of long sleeve layers is good enough. Jeans are not great as they stay wet and cold for a long time and can rub.
Bring or wear a coat – ideally windproof or waterproof but use whatever you have and we'll adapt.
Bring or wear a warm hat and gloves if the forecast is chilly. An umbrella can be handy too.

Bring water– at least 500ml, ideally 1 litre in a resealable bottle.

Sunscreen, sunglasses and a sun hat are good to have as we move to spring.

Your phone for photos, navigation etc.

Personal medication that you would normally have access to. If you've a small first aid kit that would be great, however Jo will have a full First Aid kit with her. If bringing an Epipen or salbutamol or similar inhaler please let Jo know at the start of the walk.

Camera / phone.

Snack bar/ favourite nibbles for energy.
We will go out in all weather (unless it is dangerously cold or windy), so dress appropriately. We'll adapt the walk length or route to match how we feel and the weather.
Sorry, but on this walks n talks pilot we are not able to accommodate children.
As we will be in Nature Reserves and in groups of folk who may / may not like dogs, we'd prefer you not to bring a dog with you.
People who have had or have cancer who have come to know of the walks n talks through the Cancer Council ACT. People of all ages, cultural backgrounds, shapes and sizes. People who are curious about being in nature, gentle exercise, learning a few new skills / practices and would like to do that in company.
You can choose to say as much or as little about yourself as you like. A key consideration and a core aspect of Jo's work is safety – practical and psychological. So be assured we will pay keen attention to managing this appropriately.
We ask that everyone accepts some basic principles in how we'll be together such as respecting one another, respecting the world we are walking through etc. We will actively work with anyone using inconsiderate or offensive behaviour or language and may ask them to leave the group.
We will walk on firetrails of fairly well compacted, even earth; some sections may even have blacktop; there will be stepped sections; some rocky bits with tree roots to be mindful of and, if it rains, we may even have some mud to tromp through. If walking on mixed terrain like this is new to you, Jo has a bunch of helpful tips and techniques to help us walk safely, efficiently and enjoyably in the bush.
If you enjoy these simple bushwalks and find the walk n talk helpful there may be a possibility of taking some longer hikes out later in the year.
This current series is a pilot, a chance to test out what works, what people want and what is possible. The Cancer Council ACT team will review as we go and at the end of September to work out what next. We base these decisions on many factors, not least your feedback, so please do let us know your experience and hopes.