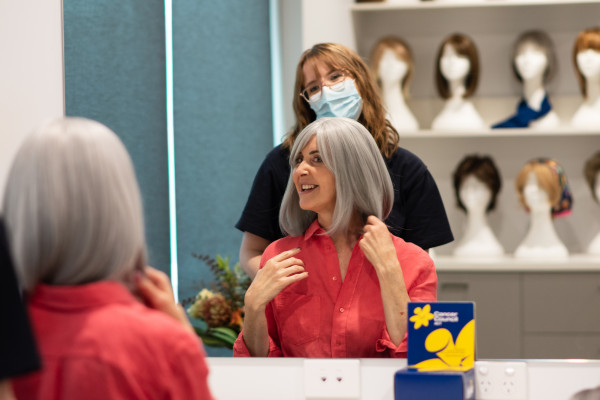 Wig Service
The Cancer Council ACT Wig Service provides a wide selection of wigs, turbans, hats, and beanies for people who have experienced hair loss due to cancer treatment.
In a comfortable and confidential setting, our trained staff can assist you to find a piece of headwear to suit your needs. We are very grateful for the support of The Snow Foundation which enables us to provide clients with one item of headwear at no cost.
Losing your hair due to cancer treatment can be a frightening and distressing experience. For more information on hair loss and cancer read our fact sheet or call Cancer Council 13 11 20.
To book: For the safety of clients, and staff, we are only able to see clients by appointment. To book an appointment please contact us.
Due to the nature of the services, we provide, we ask all visitors to Cancer Council ACT to sanitise their hands on entry. The wearing of a facemask is strongly recommended.
Cost: The first item of headwear (wig or turban) is free to clients *. Clients may then purchase an additional piece of headwear at a subsidised rate (usually between $40-$60).
Location: The Wig Service is located at the Cancer Council ACT Office in Deakin, ACT. Having trouble finding us? Please visit the contact us page.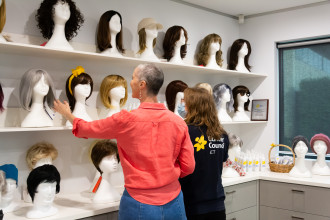 Contact the Wig Service:
To discuss any of the above services or book an appointment for a Wig fitting please contact our team using the details below.
Phone: (02) 6257 9999
*Please note:  we only provide our Wig Service to clients who have lost their hair as a result of cancer treatment.
Wig care and styling
If you are experiencing cancer-related hair loss these videos from Cancer Council Victoria include tips from experts Dr. Susan Carland and Dianne Haynes on wearing and styling a wig or headscarf.
You can also download this resource on styling a head scarf.
Wig and headwear providers in the ACT
Medina Executive James Court
74 Northbourne Ave
Braddon ACT 2612
(02) 6257 6478
Donating a Wig or Turban
Cancer Council ACT is always appreciative of any new or used wigs or turbans that are donated to the Wig Service. Donations can be submitted in person at our Cancer Council ACT office in Deakin, no appointment is necessary.
Donating your hair
We are often contacted by those wanting to generously donate their hair to help cancer patients experiencing hair loss. Unfortunately, Cancer Council ACT is unable to accept real hair donations.
Where to donate your hair
If you would like to donate your hair to help people experiencing hair loss, we recommend donating your hair to the team at Sustainable Salons. Sustainable Salons accepts hair donations (natural or coloured) of 20cm or longer and works with organisations like the Australian Alopecia Areata Foundation and Variety – the Children's Charity, to distribute your hair to people experiencing hair loss as a result of illness. 
Preparing your hair for donation
Wash and dry the hair [do not apply any styling products such as hairspray, serums, or wax]

Section the hair into small ponytails around the head and secure tightly with an elastic band 1-2cm down from where you intend to cut. Plait the length of each ponytail and secure with another tight elastic at the bottom.

Measure the ponytail. Hair donations must be 20cm or longer (from elastic to elastic) to be used for creating a wig

Cut the hair 1-2cm above the elastic band of each ponytail and then keep the ponytail as flat and smooth as possible. Do not wash the ponytail after it has been cut off.

Seal the ponytail in a snap lock bag and download and complete the Ponytail Donation Form

Place the donation and form in an envelope and mail to: Sustainable Salons – Ponytails, GPO Box 322, Sydney NSW 2002
For more information please visit their website Sustainable Salons website.
Shaving or cutting your hair to raise funds
You can help raise funds for the Cancer Council by shaving or colouring your hair as a Do It For Cancer community fundraising initiative. For more information visit the Do It For Cancer webpage.
Other ways you can help:
Make a donation below to the Cancer Council ACT Wig Service – this will help us to purchase more wigs and headwear for those affected by hair loss due to cancer
Photos complementary of LeesLens Photography.